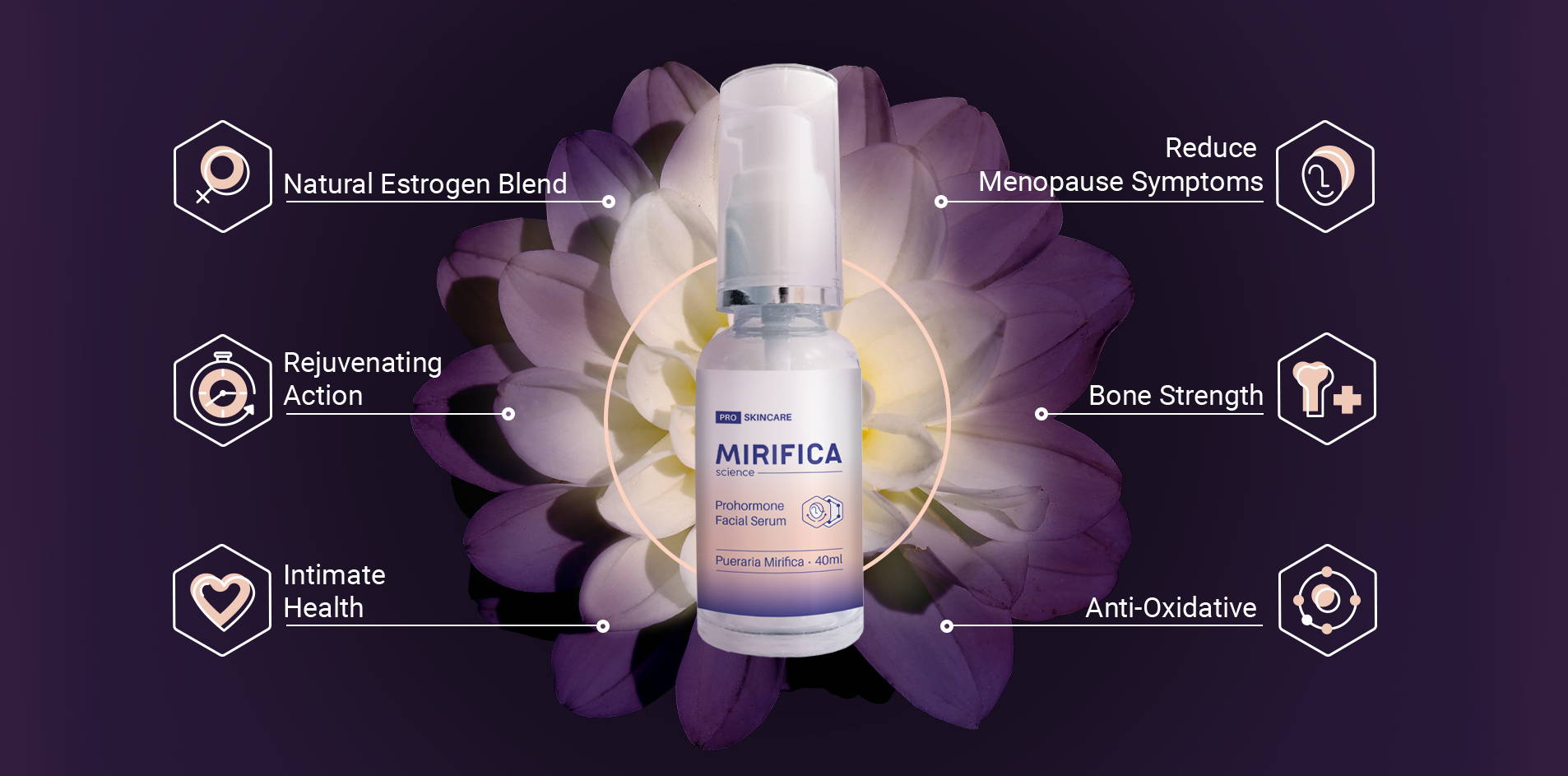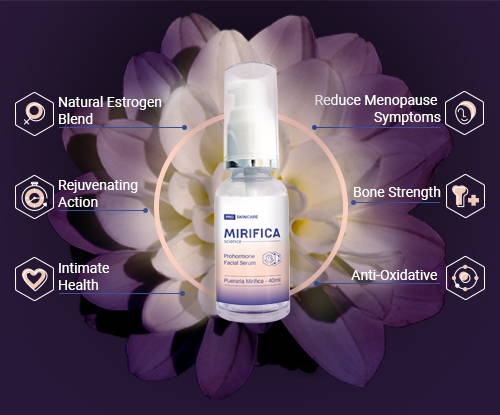 WHAT IS PUERARIA MIRIFICA



Pueraria Mirifica has been a staple component of traditional Thai medicine since ancient times.
Natives used it to rejuvenate the body and restore vital power.
This tropical herb has a unique bouquet of over 17 phytoestrogens, natural compounds that mimic the structure of the female hormone estrogen*.
As a result, Pueraria Mirifica is able to help support youthful hormonal balance.*
Modern studies have suggested numerous potential benefits of estrogen for skin health, beauty and to support bone strength*.

Some papers even reported that Pueraria Mirifica could be useful in reducing the symptoms of menopause.*

In the form of a facial serum, you can enjoy all the benefits of Pueraria Mirifica for your skin in the most cost-effective and gentle way possible.

You can find the links to these clinical studies in the "References" tab above.
| | |
| --- | --- |
| Specifications | 30ml |
| | |
| | |
| | |
| | Aqua, glycerin, hydroxyethyl urea, biosaccharide GUM-1, Pueraria Mirifica extract, polyacrylate crosspolymer-6, fragrance, hydroxyacetophenone, caprylyl glycol, dipropylene glycol, dipotassium glycyrrhizinate. |
| | |
| | |
| | GMO's, Fillers, Mineral Oil, Parabens, SLS, Preservatives, Artificial Colorings |
| | |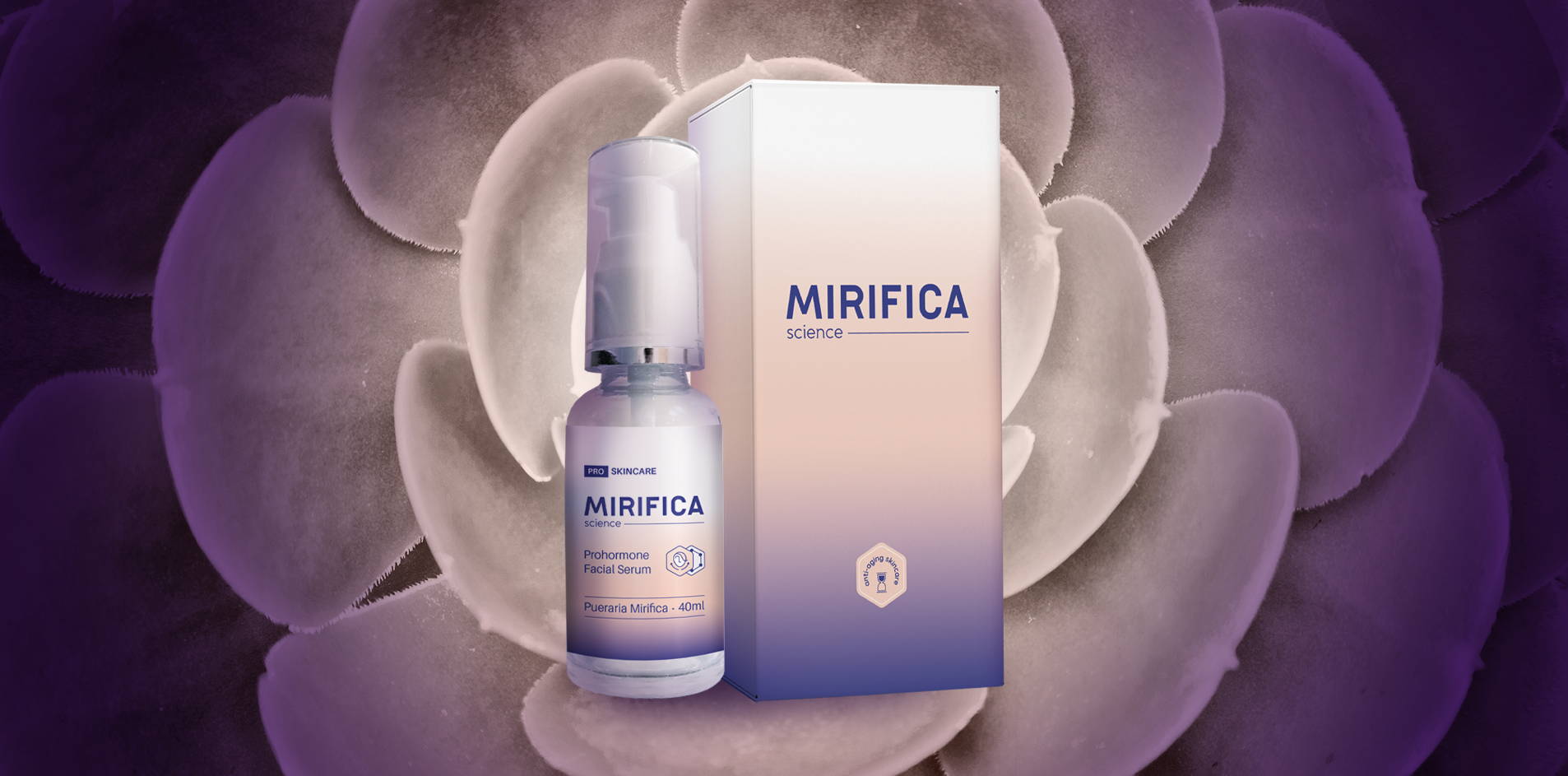 What Pueraria Mirifica Can Do for You?
The skin is one of the first parts of the body to suffer from estrogen deficiency. Dryness, loss of elasticity, appearance of fine wrinkles—all of these are red flags of decreasing estrogen levels.*
Many women turn to estrogen replacement therapy (ERT), which is a complex prescription strategy that has to be monitored an experienced professional to avoid side effects. It's expensive, delicate, and comes with its own dangers.
Pueraria Mirifica contains over 17 natural compounds that mimic the action of estrogens, mitigating the effects of estrogen deficiency in a gentle, safe, and fast way.*
When applied as a face serum, Pueraria's estrogens may enhance skin hydration and elasticity, restore firmness, and reduce the size of both wrinkles and pores.*
For centuries, Thai women have been using Pueraria Mirifica to rejuvenate their skin and keep it youthful, nourished, and glowing at any age. Now, you can experience this wonder yourself!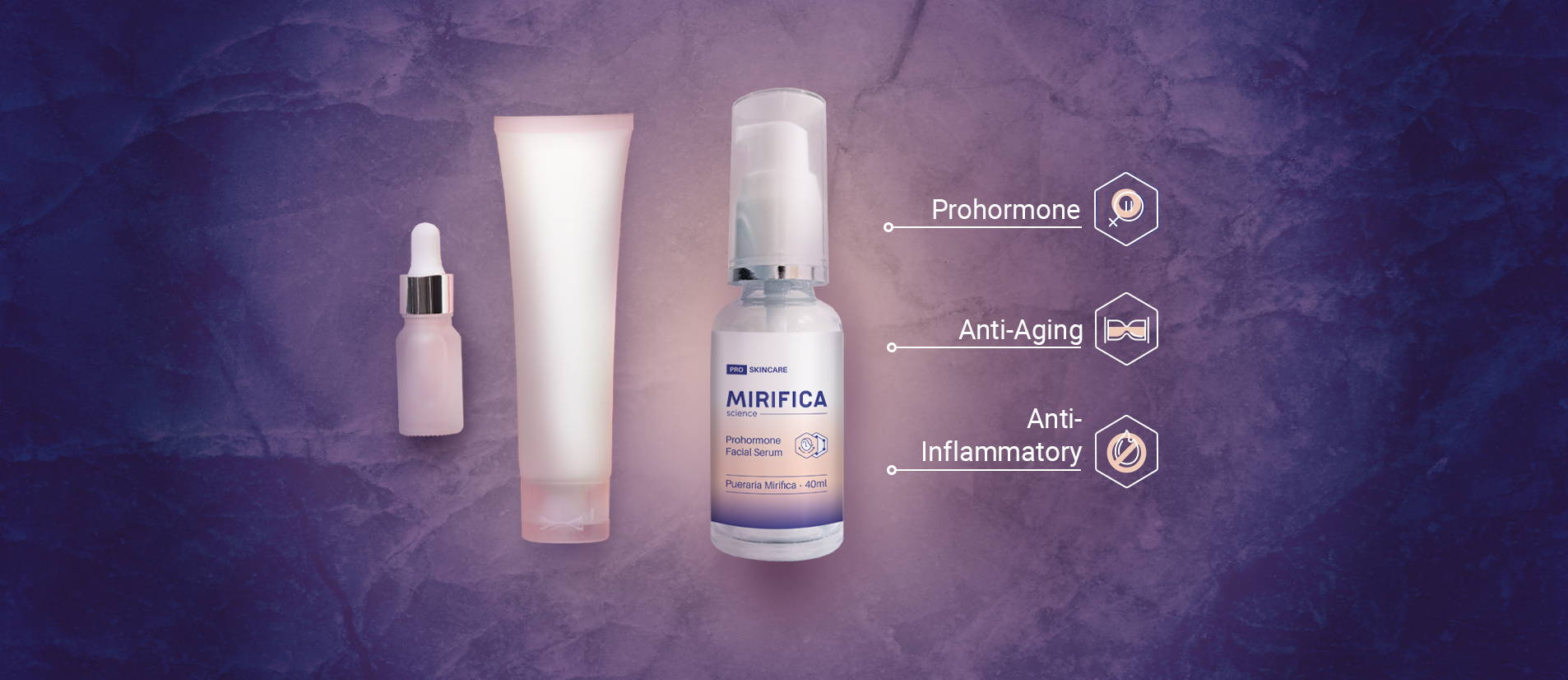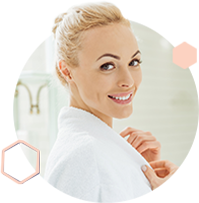 Your Beauty and Health,
Beyond Skin-deep.
Our facial serum isn't just a beauty product.
The beneficial action of Pueraria Mirifica goes well beyond skin-deep, providing general health benefits no other serum or cream focuses on. How is this possible?
Part of the plant's phytoestrogens are absorbed into the bloodstream and are able to gently mitigate the systemic symptoms of estrogen deficiency.*
Modern studies have reported several potential benefits of estrogen for general health:*
- Significantly reduce menopause symptoms*
- Increase bone strength and fight off bone loss due to estrogen deficiency*
- Support heart health*
- Neutralize free radicals*
- Alleviate dryness down there*
- Reduce pain during intimacy*
Nourish your skin and support your heart. Reduce your wrinkles and strengthen your bones. With a face serum based on Pueraria Mirifica's phytoestrogens, that's finally possible—with a single product.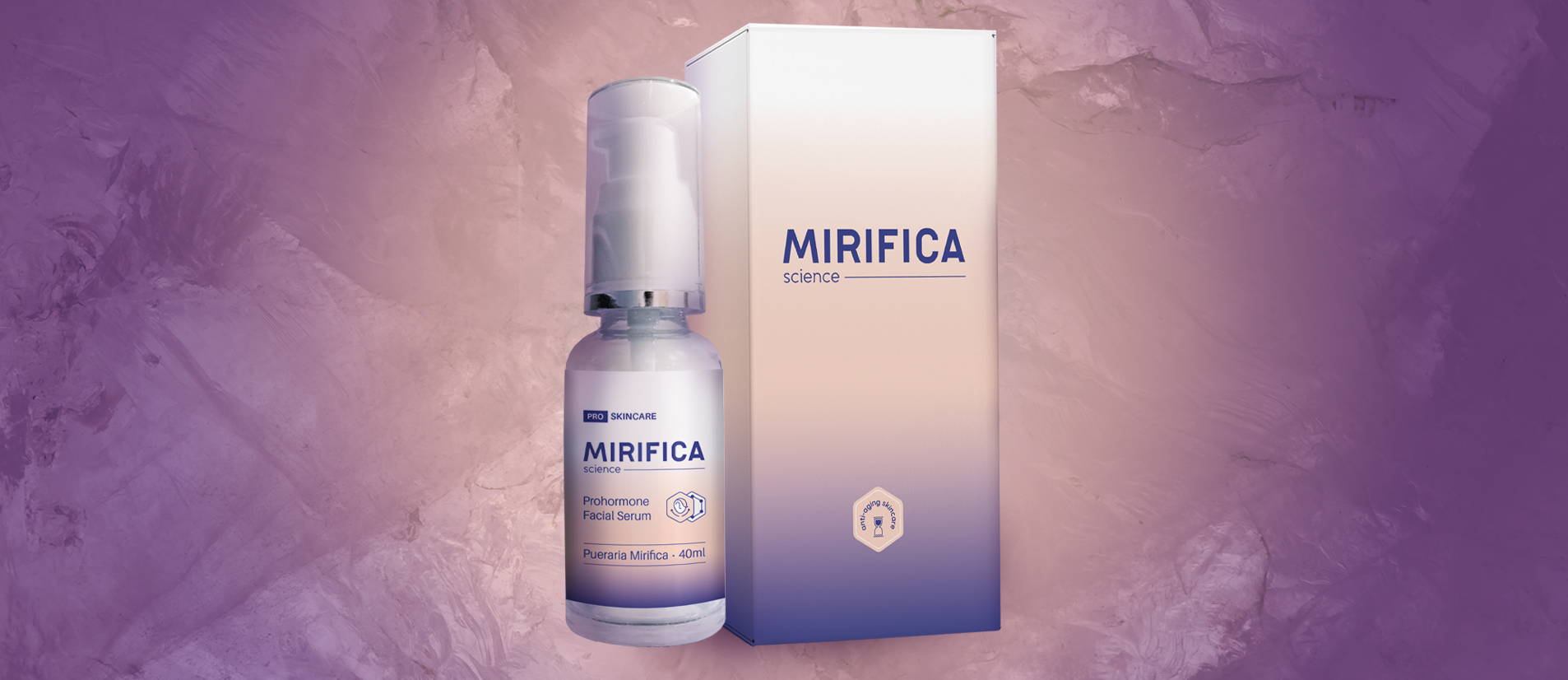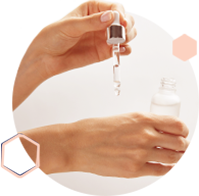 Here at Mirifica Science, we believe that natural products have all the potential to be just as powerful (if not more powerful) than artificial compounds. They can be safe and effective—without any shady additives.
Our goal was to make a facial serum just like that: a powerful natural alternative to hormonal therapy, using the best phytoestrogens that Nature itself has to offer.
As a result, we created a blend that packs all the action of Pueraria Mirifica's plant estrogens in the most gentle way possible. Facial serums are generally better tolerated than creams or gels, providing maximum effects with zero concerns.
Rejuvenate Your Skin, Illuminate Your Beauty:
Try out the Mirifica Science Facial Serum Today!
GET MIRIFICA SCIENCE TODAY AND FEEL THE DIFFERENCE IN YOUR BODY

100% MONEY BACK GUARANTEE
Try out our Facial Serum for 30 days, risk-free.

If you're not 100% happy with your results, you'll get your money back.

No questions asked.
SPECIAL OFFER EXPIRES IN:
*†Disclaimer: These statements have not been evaluated by the Food and Drug Administration. These products are not intended to diagnose, treat, cure or prevent any disease. Product results may vary from person to person. Information provided on this site is solely for informational purposes only. It is not a substitute for professional medical advice. Do not use this information for diagnosing or treating a health problem or disease, or prescribing of any medications or supplements. Only your healthcare provider should diagnose your healthcare problems and prescribe treatment. None of our statements or information, including health claims, articles, advertising or product information have been evaluated or approved by the United States Food and Drug Administration (FDA). The products or ingredients referred to on this site are not intended to diagnose, treat, cure or prevent any disease. Please consult your healthcare provider before starting any supplement, diet or exercise program, before taking any medications or receiving treatment, particularly if you are currently under medical care. Make sure you carefully read all product labeling and packaging prior to use. If you have or suspect you may have a health problem, do not take any supplements without first consulting and obtaining the approval of your healthcare provider. Copyright © Mirifica Science LLC. All rights reserved...