Mastering the Best Skin Care for Oily Skin
Mastering the Best Skin Care for Oily Skin
Ever fought with that persistent radiance, unexpectedly come up against breakouts, or felt like your face had its very own oil production line? You're in the correct spot.
Oily skin doesn't need to be a relentless battle; rather, it can become part of an achievable skincare journey.
We will look deeper into why is excess oil created, and how this impairs our skin health, and most significantly we'll discover ways to make a personalized plan that will leave you feeling beautiful and glowing.

We will look deeper into why is excess oil created, and how this impairs our skin health, and most significantly we'll discover ways to make a personalized plan that will leave you feeling beautiful and glowing.

GLOWING SKIN GROCERY LIST
GLOWING SKIN GROCERY LIST

The Impact of Oily Skin on Your Skin Health

The Impact of Oily Skin on Your Skin Health


Let's get into something that you need to be aware of – the effects of oily skin on your complexion health. It isn't just about glancing in the mirror and noticing a gleaming face; there is more than meets the eye.
So, imagine this: your complexion has these microscopic factories, also referred to as follicles or pores, which produce sebum-your natural oil. Usually speaking, sebum acts like an ally to protect it from drying out by keeping it hydrated and guarded. But once the oil accumulates excessively, it can clog up these pores and that's when all the trouble begins.
Blocked pores tend to be a great environment for bacteria responsible for causing acne – those bothersome whiteheads as well as blackheads?
They are oftentimes a consequence of blocked-up skin cell openings, similar to an open invitation to outbreaks! And let's face it; no one desires pimples crashing their facial event.
Afterward, there is 'perspiration shine.' Alright, having some gleam on your skin may provide you with a nice healthy look. But if your face sparkles more than a freshly waxed vehicle… then we have another thing going on here.
It's not just about looking good, it's also about feeling uncomfortable, having your makeup slide off, and never quite winning the fight against shine.
But here's a heads up - there needs to be balance when it comes to oily skin; if you have too much of it then that can disrupt its natural equilibrium which may actually end up leading to your pores enlarging.
So what does this mean? Well, being faced with an oily complexion isn't only something cosmetic but is related to our overall skincare health as well – breakouts become more likely plus in the long run you're at risk of losing touch with your skin's optimal level of moisture.
Don't worry though; we've got all bases covered for creating a personalized routine designed specifically for those who struggle with greasy faces so they can ultimately achieve harmony and radiance!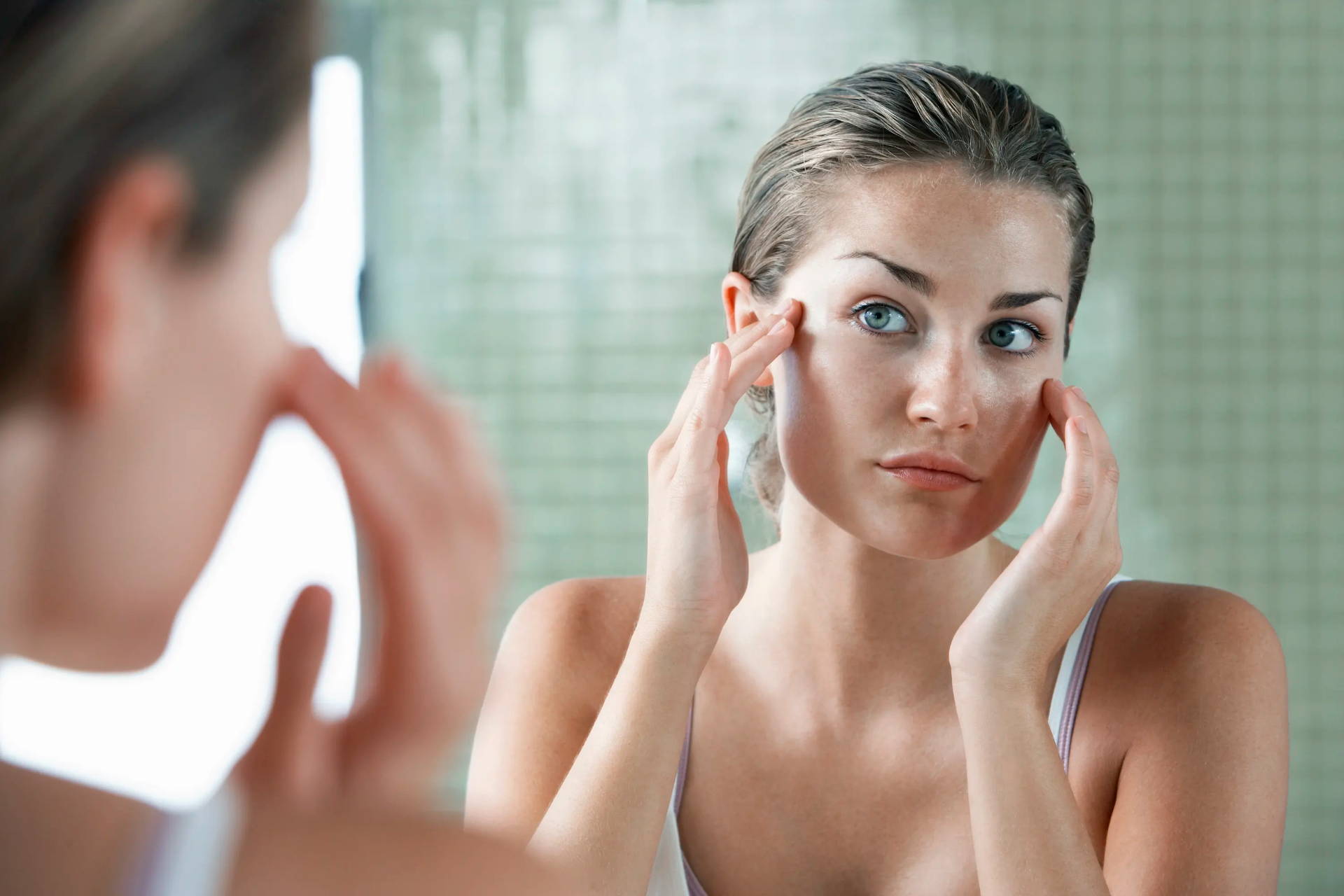 Building a Skincare Routine for Oily Skin

Building a Skincare Routine for Oily Skin


Let's get right down to business and fashion together an unbeatable skincare routine that can tackle oily skin head-on. It doesn't have to be intimidating; if you go about it the correct way, handling excess oil will become second nature.


First of all, let's discuss the foundation of any good self-care regimen: cleansing. When combating excessive oils, this isn't just about getting rid of makeup residue or surface dirt – cleansing is your chance at clear skin!
Opt for something gentle like a sulfate-free cleanser so as not to take away too much natural moisture from your complexion. Cleanse twice a day, morning and night, to keep excessive oil and dirt under control.


Exfoliating is your friend when it comes to fighting off oily skin. It helps get rid of dead cells that can mix with sebum, blocking those precious pores.
Go for a chemical exfoliant featuring salicylic acid or glycolic acid in the ingredients list. Start by using this type of product just 2-3 times per week then adjust as needed - but always bear in mind: moderation is key!

Hydration and Moisturization

Hydration and Moisturization


You may think since your complexion already produces natural oils you don't need additional moisturization – wrong! No matter what kind of facial skin you have everyone should be investing in hydration and moisture care routines: they help nourish dry patches while providing balance all over so why skip it?
Even oily skin needs hydration. Look for a lightweight, oil-free moisturizer that won't clog your pores or smother them with an uncomfortable feeling - this will help balance the oils and keep you looking great.


Sun protection isn't up for debate; sunscreen is what prevents sun damage and age spots down the line. Opt for broad-spectrum, non-greasy formula products with at least SPF 30 rating every day regardless if it's cloudy outside – no excuses here.


When dealing specifically with acne breakouts or large pore sizes, consider incorporating targeted treatments into your routine like serums enriched in niacinamide or tea tree extract.
Just remember to take it easy on yourself by adding just one product at a time so as not to overstress your complexion's tolerance level.
Until Special Offer Expires

100% Money Back Guarantee


How to Take Care of Oily Skin Daily

How to Take Care of Oily Skin Daily


Now that you understand how to create an effective skincare routine for your oily skin, let's break it down so you can incorporate it into your daily schedule. We'll show you the steps necessary to keep that complexion in balance and prevent oil buildup.


Start off right with a morning plan that keeps up positive vibes for your face:
Cleansing: Begin by using something gentle on the skin. Wash away impurities from last night as well as any extra greasiness. Gently pat dry - don't rub!

Toning (Optional): If you're a fan of toners, get one that's alcohol-free. It can help keep your skin balanced and give it the extra boost it needs before moving on to other steps.

Serum: Apply a serum with ingredients like niacinamide or hyaluronic acid to tackle any specific concerns you may have.

Moisturizing: Even if oiliness is something you struggle with, skipping moisturizer shouldn't be an option. Look for lightweight yet oil-free formulas to make sure your complexion stays hydrated without clogging pores.

Sunscreen: You should never forget this key step in your skincare routine – sunscreen! Make sure whatever SPF-level product you pick contains at least 30 UV protection levels so there won't be any damage done by harmful rays from sun exposure.


Your evening routine is all about getting rid of the day's build-up and giving your skin some much-needed love:
First Cleanse (If Wearing Makeup): If you have any makeup on, begin by using a make-up remover or micellar water to dissolve it.

Cleansing: Then follow with a gentle cleanser to properly clean off any remaining impurities.

Exfoliation (2-3 Times a Week): On exfoliating nights, apply your chosen chemical exfoliant after cleansing.

Toning (Optional): Toning isn't necessary but can help restore balance in your skin's pH level.

Serum: Reapply serum if there are certain concerns that need addressing again.

Moisturizing: Finish up with an oil-free moisturizer so that hydration will be maintained while sleeping.

Occasional Treatments (As Needed): Apply treatments for breakouts, etc., as needed - don't forget this part!
Remember, staying consistent is essential here; don't give in even when results aren't immediate – oily skin may take time before settling into the new habit.

Finding the Perfect Solution for Oily Skin - Pueraria Mirifica Facial Serum

Finding the Perfect Solution for Oily Skin - Pueraria Mirifica Facial Serum


Are you struggling to keep your oily skin under control? The search is over because there's an answer! Introducing, the miraculous and groundbreaking Pueraria Mirifica Facial Serum specifically designed by Miracle Science.
This revolutionary product has been carefully formulated with the right blend of oil controls and hydration that provide perfect results for those with oily skin.
At its core lies a powerful ingredient – none other than the celebrated extract of Pueraria Mirifca which provides several amazing skincare benefits and expertly formulated with phytoestrogens to work in harmony with your skin's natural balance.
You will be amazed at how this serum balances out sebum production without drying your delicate face; leaving behind nothing but a beautifully balanced complexion!
It stands out from the crowd for its natural approach; it's free of parabens and is full of gentle, organic substances. Not only does this serum control oil production, but also contains an anti-aging formula to reduce fine lines and wrinkles - not a bad deal! Additionally, since it doesn't clog pores either, you can expect clear skin without blemishes.
The Pueraria Mirifica product quickly absorbs into your face so you get an amazing complexion in no time. So if your goal is healthier-looking skin that won't be too oily or age prematurely – then look no further than this miracle facial serum!
Stop worrying about grease showing up on your forehead throughout the day and reclaim faith in yourself by taking care of how young & healthy your countenance looks today!

Additional Tips for Managing Oily Skin

Additional Tips for Managing Oily Skin


Managing oily skin requires more than just a skincare routine. Here are some additional tips to keep your complexion in check:
Balanced Diet: Consume a diet rich in fruits, vegetables, and whole grains. Limit sugary and greasy foods, as they can exacerbate oiliness and breakouts.

Stay Hydrated: Drink plenty of water to maintain overall skin health. Proper hydration can help regulate sebum production.

Blotting Papers: Keep blotting papers handy for quick oil absorption during the day without disturbing your makeup.

Hands Off: Avoid touching your face throughout the day to minimize the transfer of oil and dirt from your hands to your skin.

Regular Exercise: Physical activity can improve blood circulation and help your skin look more vibrant. Just be sure to cleanse your face post-workout to remove sweat and excess oil.

Limit Hot Water: Instead of taking hot showers or washing off with boiling water, stick with lukewarm water. Hot temperatures are notorious for drying out the essential oils in our complexions which could leave us looking overly oily!

Choose Oil-Free Cosmetics: Pick makeup and skincare products that are "oil-free" or "non-comedogenic" on the label to reduce the chances of clogged pores.

Weekly Mask: Consider incorporating a clay mask into your routine once a week to help absorb excess oil and impurities.

Avoid Overwashing: Control the temptation to overwash your face. Cleaning it too often can take away natural oils from the skin, making more oil production happen.

Consult a Dermatologist: If you're dealing with huge amounts of oiliness or persistent acne, don't wait any longer - get specialized advice from a dermatologist right away. They will be able to suggest treatments suitable just for you as well as possible solutions.
Remember, managing oily skin is a journey that requires patience and consistency. By following these additional tips alongside your skincare routine, you can achieve a beautifully balanced complexion and boost your skin's overall health.

Conclusion: Mastering Oily Skin Care

Conclusion: Mastering Oily Skin Care


Conquering oily skin is attainable with the right approach. We've explored its impact on skin health, emphasizing the importance beyond appearance.
A customized skincare routine, with steps like cleansing, exfoliation, hydration, and sun protection, is your path to balance. Consistency is your ally.
The Pueraria Mirifica Facial Serum from Mirifica Science stands out as an ideal product for oily skin, offering natural oil control, hydration, and anti-aging benefits.
Additional tips, including a balanced diet, exercise, and mindful skincare choices, enhance your journey to balanced, radiant skin.
With a commitment to these principles, you'll bid farewell to excess shine and embrace newfound confidence in your skin's health and beauty.
If you want to obtain the chemical in high concentration without compromising affordability, Pueraria Mirifica Facial Serum should be the product to put in the highest consideration.

If you want to obtain the chemical in high concentration without compromising affordability, Pueraria Mirifica Facial Serum should be the product to put in the highest consideration.

All our products are research-backed. We spend countless hours reading through clinical
research to make sure our products do exactly what we say they will.
That's why we take responsibility for all the risk and guarantee you'll get results. If not, you're protected by an ironclad 60-day money-back
guarantee.

Simply put, if our products don't work for you, let us know and we'll refund you
everything. No questions asked.
*These statements have not been evaluated by the FDA. Products are not intended to diagnose, treat, cure or prevent any disease.
The information on this website has not been evaluated by the Food & Drug Administration or any other medical body. We do not aim to diagnose, treat, cure or prevent any illness or disease. Information is shared for educational purposes only. You must consult your doctor before acting on any content on this website, especially if you are pregnant, nursing, taking medication or have a medical condition.