Serum vs Moisturizer - Which Wins the Glow Battle?

Serum vs Moisturizer - Which Wins the Glow Battle?

Is your skincare routine overwhelming you with too many products that are all promising a glowing complexion? With so many serums, moisturizers and more to choose from in the market today, it can be hard to figure out which one reigns supreme when it comes to achieving luminous skin.
Most users do not experience any skin purging or breakout with the product. It is highly recommended for pimple-prone and acne-prone women.

So we're here for an ultimate challenge: serum versus moisturizer – who will win the battle of perfecting radiance? Let's explore further into this world of skincare and uncover the secrets behind flawless complexions!

GLOWING SKIN GROCERY LIST
GLOWING SKIN GROCERY LIST

Understanding the Basics: What are Serums and Moisturizers?

Understanding the Basics: What are Serums and Moisturizers?


Serums are lightweight, fast-absorbing skincare products that contain high concentrations of beneficial ingredients. The main purpose of serums is to provide targeted solutions for specific skin concerns such as brightening, anti-aging or hydration. They even have the superpower to penetrate deep into your skin cells in order to address any issues at hand!
It's time you unlocked your natural radiance by investing in some quality serum and moisturizer products - so get ready to glow from within!
Serums and moisturizers are two totally different skincare products, each of them having its own purpose. Serums have some powerful formulas that can help tackle things like wrinkles, fine lines or uneven texture to get visible results. They work really well with other skincare items to boost efficacy even more.
On the contrary, moisturizers serve to hydrate and provide nourishment by creating a barrier against moisture loss so your face stays plump and soft. These creams usually contain emollients as well as occlusives which offer hydration while sealing in all needed dampness.

The Glow Battle: Serum vs Moisturizer

The Glow Battle: Serum vs Moisturizer


Let's now dig into the potency of these skincare must-haves. Are you ready to unlock the keys to glowing skin? Let's begin!


Lightweight and Fast-Absorbing: Imagine serums to be like the feather-light superheroes in skincare. Thanks to their watery consistency, you can rest assured that serums will seep into your skin very quickly without leaving behind an unpleasant greasy or heavy feeling. This means all those potent ingredients contained within these precious little elixirs are able to work their magic right away!
Concentrated Active Ingredients: You'll definitely be left spellbound by how much life-enhancing goodness is condensed inside serum bottles! These supercharged potions contain high concentrations of active components such as retinol, and hyaluronic acid, plus many more powerful substances - no wonder they pack such a punch when it comes to restoring vibrancy back into tired complexions!
Targeted Skin Concerns: Say goodbye to generic skincare solutions-- serums are the way to go if you're looking for targeted, visible results! These powerful mixtures target particular skin problems such as fine lines, dark spots or lack of radiance in just a few drops. Their highly concentrated formula penetrates deep into your pores and addresses issues at their source. Whether ageing is taking its toll on you or your texture is uneven/unevenly textured and energyless - serum can be tailor-made to meet all of these specific needs.

The Magic of Moisturizers

The Magic of Moisturizers


Hydration and Nourishment: Moisturizers play a fundamental role in keeping your skin hydrated and nourished. They replenish moisture levels, preventing water loss and leaving your skin feeling soft, plump, and healthy. Regardless of your skin type, a good moisturizer is a must-have in any skincare routine.
Locking in Moisture and Protective Barrier: Moisturizers do more than just keep your skin hydrated; they form a defensive shield on its surface. By trapping moisture and working as an armor, moisturizers make sure your complexion stays soft and safe from external elements that could be damaging to it every day. They play a crucial role in preserving the water balance of your face while also keeping up with its general well-being.
Boosting Overall Skin Health: When it comes to getting the best out of your complexion, healthy skin should always be at the top of mind. Moisturizers are great as they can help with improving elasticity while decreasing dryness and adding that natural glow we all want! To really maximize results, many moisturizers come along with additional benefits like antioxidants or calming agents - talk about having everything in one bottle!
Until Special Offer Expires

100% Money Back Guarantee


The Perfect Glowing Duo: Serum + Moisturizer

The Perfect Glowing Duo: Serum + Moisturizer:


Complementary Nature of Serums and Moisturizers: Coupling serums and moisturizers together create an unbeatable skincare duo – after all what could possibly go wrong? The serum provides active ingredients that circle around specific issues whereas using a cream will offer much-needed hydration & protection on its own.
Maximizing Benefits: Utilizing serums and moisturizers together produces a synergistic result. Serums deeply penetrate into your dermis, providing active elements right where they need to go while moisturizers lock in moisture and give long-term hydration. This fusion maximizes both products' efficacy resulting in a healthier-looking complexion.
Introducing Pueraria Mirifica Facial Serum: As you're striving towards that desired radiance, think about adding our Pueraria Mirifica Face Serum to the mix of skincare items you use regularly! Formulated with powerful plant extracts, this serum tackles multiple concerns like firming up sagging areas or brightening dark spots as well as nourishing dryness and hydrating patches on your face - all at once! When coupled with a great moisturizer it creates an unbeatable combo making sure that every inch of skin is naturally glowing.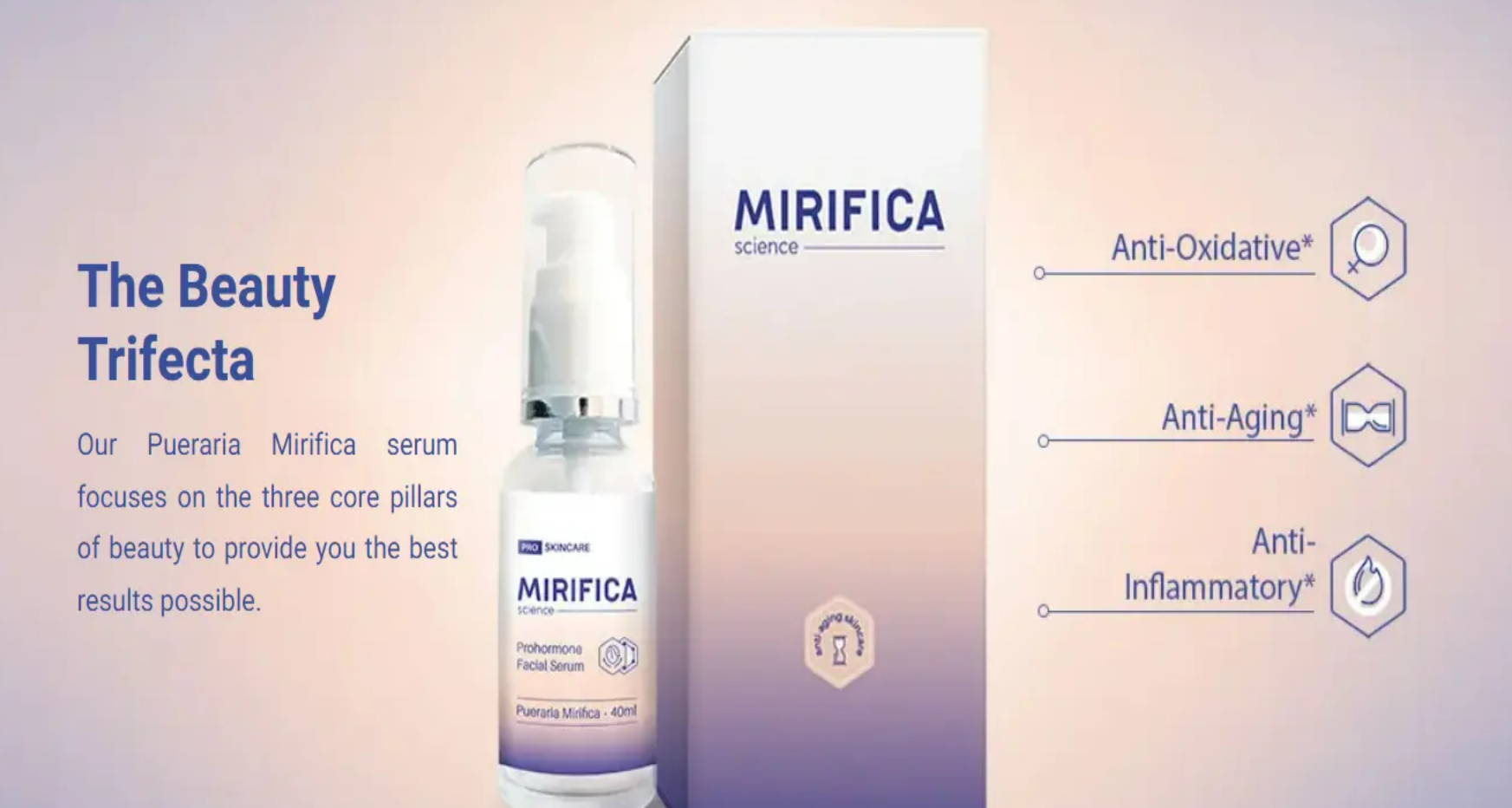 Choosing the Right Serum and Moisturizer for Your Skin

Choosing the Right Serum and Moisturizer for Your Skin


If you want to get ideal results, it's essential to find out which serum and moisturizer are best for your skin. Here we'll go through all of the stuff that should be taken into account when making this critical decision.


The first step in picking an appropriate serum and cream is recognizing what type of skin you have plus any particular concerns. Whether you've got oily, dry, blended, or delicate skin--all will require different care needs depending on how bad they are. Think if wrinkles prevention or hydration is something vital to tackle or whether other specific problems need handling so that can help make a better choice here.


Take a peek at the ingredient list when selecting your skincare products. Seek out key ingredients that address your particular skin issues. For instance, retinol is top-notch for concentrating on signs of aging, hyaluronic acid helps regard hydration levels and niacinamide does wonders with irregular complexion tone. Be sure you choose items that have components tailored to what you need.

Personal Preferences and Budget

Personal Preferences and Budget


Your personal preferences coupled with your budget will also be important in deciding upon the perfect serum and moisturizer combo. Think about such things as scent, texture or rate of absorption - whatever matters most to you!
Some people prefer lighter, fast-absorbing formulas while others may like a thicker, creamier texture. Finances are important too and there are lots of products with great quality that won't break the bank.
It pays to take into account things like your skin type, issues you're trying to solve for it such as wrinkles or discoloration), preferred ingredients (like natural vs synthetic) personal preferences in terms of product feel/texture and budget when choosing skincare items so you can get exactly what works best for you instead of someone else's opinion on what should work.
Have confidence in yourself—listen up if your skin tells something different than is suggested by someone else!

Illuminate Your Skin: The Ultimate Serum and Moisturizer Duo

Illuminate Your Skin: The Ultimate Serum and Moisturizer Duo


In pursuit of glowing skin, serums and moisturizers take the lead. Imagine this: swiftly gliding on your face with accuracy, serum permits active ingredients to be absorbed into the depths of your pores; whereas its counterpart, a powerful moisturizer envelops it all in protective layers.
But why settle for just one when you can have both? Together, these two heavy hitters create an outstanding duo - like Pueraria Mirifica Facial Serum. Just pick out your preferred facial cream or lotion as well and nausea-striking luminosity is yours for sure!
Don't let a dazzling complexion remain only but a dream; it's achievable if you make use of serums & creams synergically according to what fits best with YOUR particular demands.
With such a combo at hand, success is guaranteed. So don't wait any longer and get ready to experience unprecedented radiance first-handily!
If you want to obtain the chemical in high concentration without compromising affordability, Pueraria Mirifica Facial Serum should be the product to put in the highest consideration.

If you want to obtain the chemical in high concentration without compromising affordability, Pueraria Mirifica Facial Serum should be the product to put in the highest consideration.

All our products are research-backed. We spend countless hours reading through clinical
research to make sure our products do exactly what we say they will.
That's why we take responsibility for all the risk and guarantee you'll get results. If not, you're protected by an ironclad 60-day money-back
guarantee.

Simply put, if our products don't work for you, let us know and we'll refund you
everything. No questions asked.
*These statements have not been evaluated by the FDA. Products are not intended to diagnose, treat, cure or prevent any disease.
The information on this website has not been evaluated by the Food & Drug Administration or any other medical body. We do not aim to diagnose, treat, cure or prevent any illness or disease. Information is shared for educational purposes only. You must consult your doctor before acting on any content on this website, especially if you are pregnant, nursing, taking medication or have a medical condition.